May 8, 2021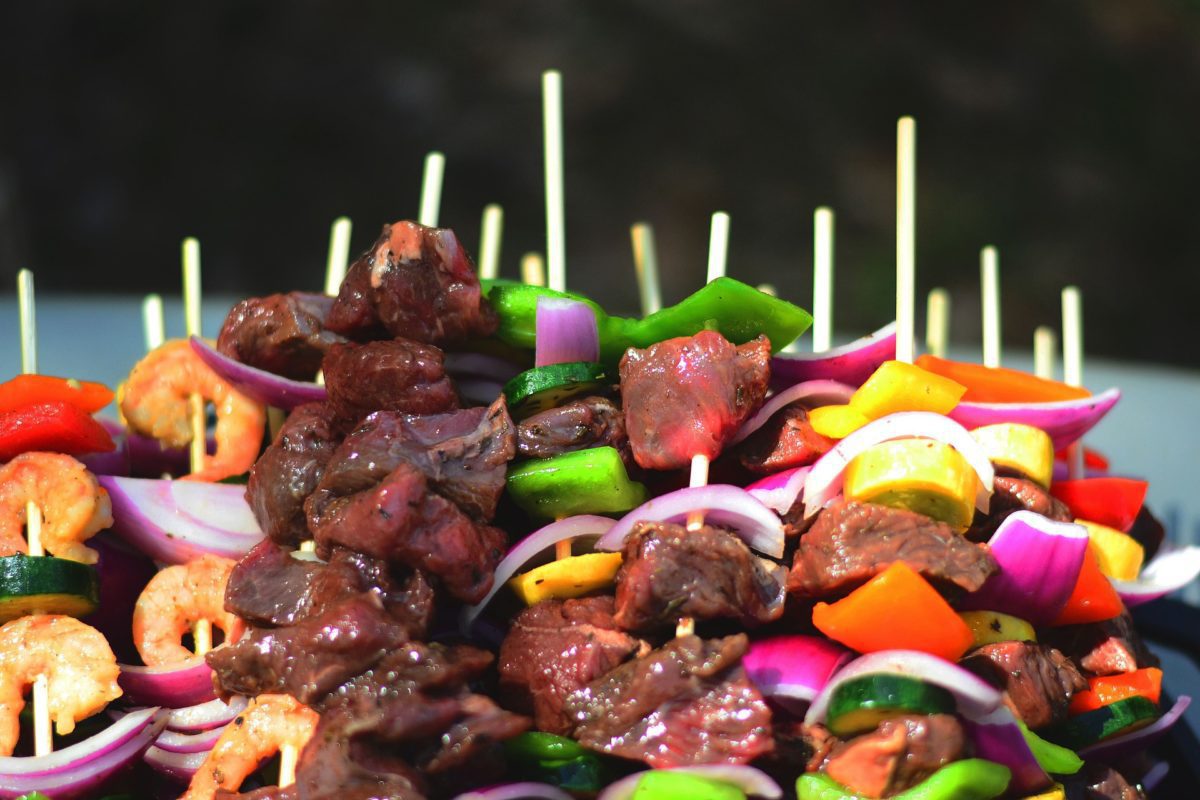 Grilled Beef Kabobs are the perfect summer meal here in Texas. They're easy to cook, easy to eat, and your kids will love to customize their own skewers.
With just a few simple steps and an overnight soak in our best kabob marinade, you'll have dinner ready to go and plenty of leftovers for the fridge. So fire up the grill, chop up the veggies, and let's get cooking!
Choose the Best Steak for Beef Kabob
To get started, you'll need 1 1/2 pounds of Premium Quality Texas Beef cut into 1-inch cubes. But which cut of steak will you choose? Of course, grilled beef kabobs can only be as delicious as the meat they're made with. So you'll want something tender and flavorful.
We recommend Premium Quality Texas Beef. It's grass-fed, grain-finished, and always hormone and steroid-free. When you're ready to Eat Better Beef, here are some options to fit every budget:
Fillet (or tenderloin) – this is the most tender option for beef kabobs. And although many people consider it the best cut of steak, it doesn't have those big beefy flavors that many people crave. The one downside though, is that filets can get pretty expensive.
Flank Steak – this is a great choice. Flank tends to have a good balance between flavor and tenderness. Additionally, the grain of the meat is more or less uniform throughout, making for more consistent kabobs. Again, this cut can be pricey, so it might not be your first pick.
Sirloin – this is a less expensive but still very flavorful cut. We love sirloin because of its big beefy flavor. The one downside is that it can be slightly tough, but if you give it a few more hours in the marinade, it'll soften right up.
What's our favorite? We usually lean towards a good sirloin. Sure, it's a little less tender, but a good marinade tenderizes it nicely, it has excellent flavor, and it's less expensive than most other options.
Texas Beef Kabob Marinade
There are so many ways to season beef kebabs. But over the years, we've found that marinades work the best. They add flavor and tenderize the meat at the same time.
This particular recipe has a delicious sweet and sour flavor and is easy to make. Another plus, you probably already have everything you need in your pantry.
Feel free to change anything in this recipe to your liking. Just make sure that there's a good balance of salt and acid.
1/4 cup Worcestershire sauce
1/4 cup soy sauce
2 tablespoons lemon juice
1 tablespoon dijon mustard
1 tablespoon minced garlic
1 tablespoon brown sugar
1 teaspoon basil
1 teaspoon chili powder
1 teaspoon black pepper
Mix everything in a large bowl. Place your cubed Premium Quality Texas Beef into a large plastic zip-tight bag and pour the marinade over it. Seal it tight and squish everything around to coat well and refrigerate.
If you're using fillet, you can marinate it for as little as thirty minutes. But for sirloin, we let it soak overnight. 
Building and Grilling Beef Kabobs
About an hour before you want to eat, preheat your grill, gather the kids, and lay out all your ingredients. You'll need some skewers, the marinated beef, and a variety of vegetables. Use whatever you like, but we typically go for:
2 bell peppers (choose some fun colors: green, red, yellow, orange)
1 white onion
1 zucchini sliced into discs
1 yellow squash
1/2 pound mushrooms (any kind you want: button, crimini, shiitake)
1/2 pound cherry tomatoes
Cut the veggies into chunks that are roughly the same size as the steak and let the kids go to work. They'll love creating their own skewers. Try to get them to alternate pieces of meat and vegetables, until the skewers are filled.
When the grill is hot, place kabobs directly over high heat. This will result in a nice sear and allow the sugars in the marinade to caramelize. Turn the skewers every 2-3 minutes until all sides are charred. Cooking, times will vary based on the temperature of your grill, and the size of your chunks of steak, so keep an eye on how quickly the kabobs are cooking. Typically, we cook our marinated grilled beef kabobs for 8-10 minutes total.
Check us out! We offer grass-fed, grain-finished, sustainably raised bulk beef and Premium Quality custom beef boxes. Each one is chock-full of all your favorite cuts. We also have tons of Texas Beef Company merchandise. Show the world that you Eat Better Beef!