November 14, 2020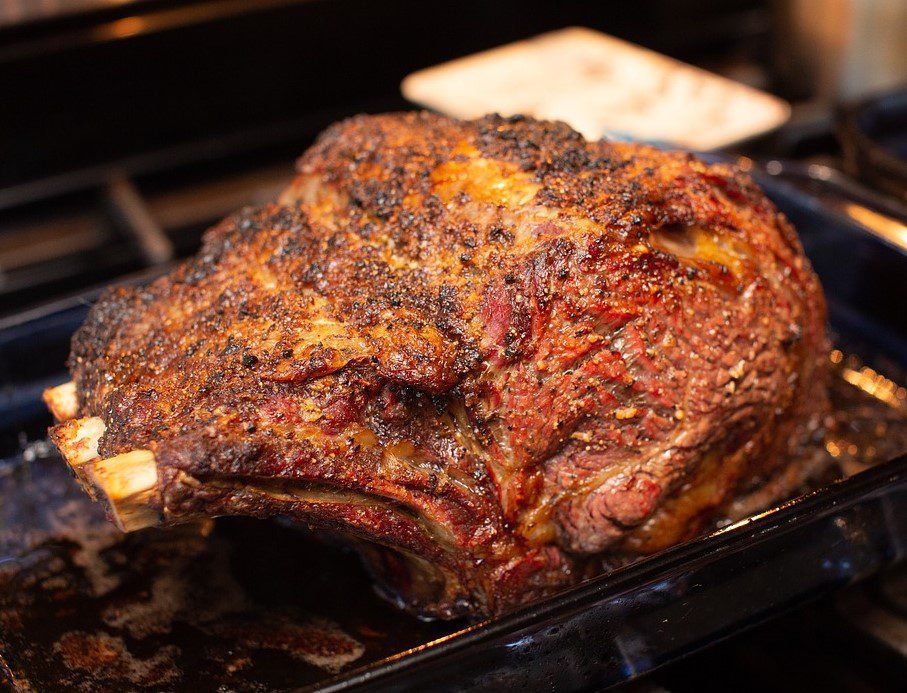 Thanksgiving is just a couple of weeks away. On the ranch, we are busy planning and preparing for the big feast. While Beef for Thanksgiving isn't considered traditional, on our table, that's what you'll find.
Don't get me wrong, we love turkey too, but beef is the highlight of our Thanksgiving dinners. Here are three of our favorite recipes to inspire you this year.
Prime Rib for Thanksgiving
The Prime Rib was made for celebrations. If you enjoy the process of carving and serving holiday meat, this is the recipe for you. The roast is rich, juicy, tender, and if you're using grass-fed beef, the flavor will be out of this world. This dish will quickly become a beef for Thanksgiving tradition in your house.
Best of all, it's easy to prepare. The secret is to start the oven at a high temperature to get a good browning on the roast. Then lower the temperature and cook until it reaches your desired doneness.
Ingredients:
Bone-in Prime Rib. This can be as large as you need but assume that each person will need about a half-pound of beef.
Chili powder to taste.
Garlic powder to taste.
Kosher salt and coarse ground black pepper to taste.
Instructions:
One of the most important things to remember with a large prime rib is to remove it from the refrigerator at least 3 hours before you start to cook it. Doing this will ensure that it finishes more evenly.
Preheat your oven to 500°F (or the highest temp possible). Pat the roast dry with paper towels and sprinkle the roast all over with chili powder, garlic powder, salt, and pepper.
Place the roast fat side up in a roasting pan.
Insert an oven-proof meat thermometer into the roast's thickest part, making sure that the thermometer isn't touching a bone if there is a bone.
Brown the roast at 500°F for 15 minutes.
Reduce the oven temperature to 325°F and finish cooking to the desired temperature.
The actual cooking time will depend on your roast's shape, how big it is, and how cold it was when it went into the oven. There are so many variables involved that affect cooking time, but the meat thermometer will take the guesswork out of the process.
Once the roast has reached the temperature you want, remove it from the oven and place it on a carving board. Let it rest for 15 to 30 minutes before carving. This allows the juices to reabsorb into the meat.
Remove any strings or bones, and using a sharp carving knife, slice meat across the grain for serving, making the slices about 1/2-inch to 3/4-inch thick.
Serve the Premium Quality Prime Rib with your favorite types of steak sauces and accompaniments.
Thanksgiving Slow Cooker Pot Roast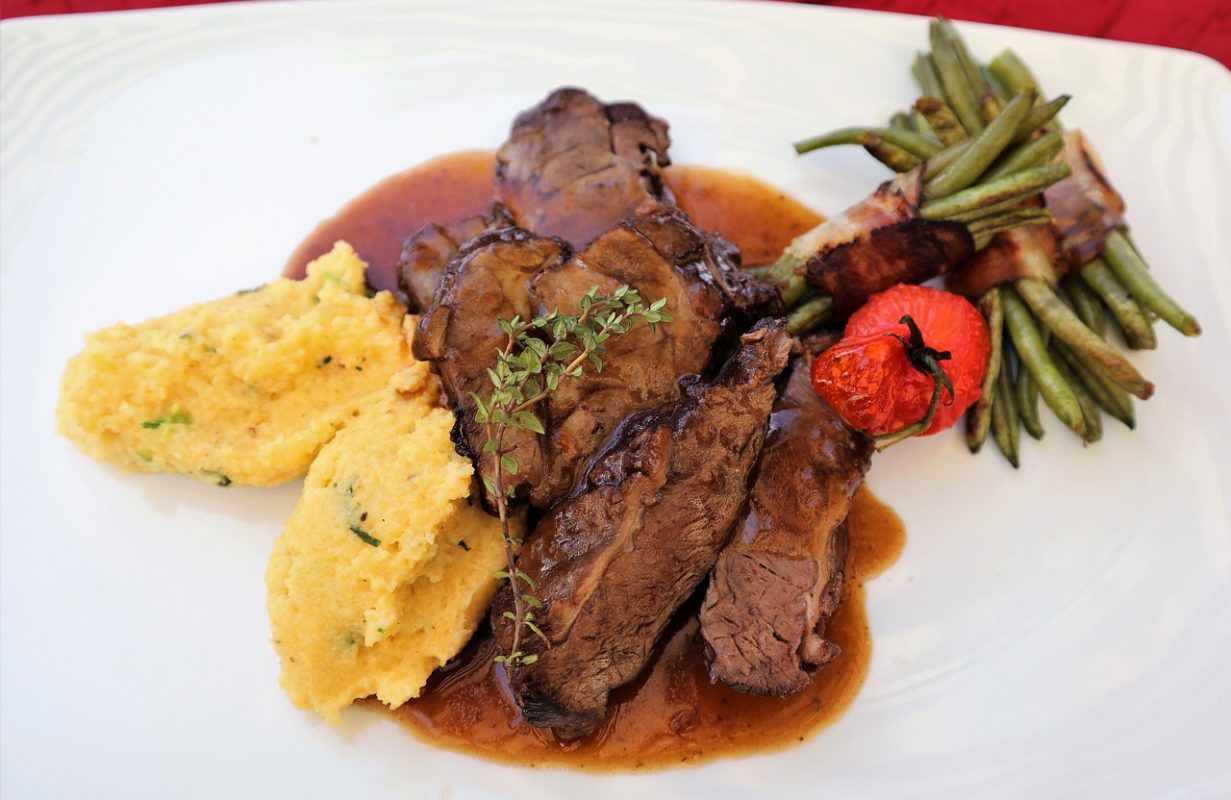 Like most slow cooker recipes, this Pot Roast is very simple. Honestly, this is an excellent choice because it frees up so much time. You just need to buy the right cut of meat. We like to use our own Premium Quality Texas Beef Company Rump Roast. After that, you just throw everything in the crock! Let the slow cooker work its magic for the next 8-10 hours.
Ingredients:
1 4lb cut of Premium Quality Texas Beef Company Rump Roast
2 tablespoons Worcestershire sauce
2 tablespoons cooking oil
1 tablespoon Kosher salt
1 tablespoon coarse ground black pepper
1 teaspoon garlic powder
1 teaspoon onion powder
2 tablespoons oregano
1/2 cup red wine
1 cup beef stock
1 8oz. jar salsa
Instructions:
Season meat with Worcestershire sauce, salt, pepper, garlic, onion powder, and oregano.
Heat a skillet with the cooking oil and brown beef for 5-6 minutes on each side, then place in the slow cooker.
Pour the red wine, beef stock, and salsa over the meat.
Set the slow cooker to LOW and cook for 8-10 hours or until a knife slides through the meat easily.
Remove the Pot Roast and place it on a serving dish. Spoon the cooking liquid over the top.
Get ready. This dish is melt in your mouth delicious and goes perfectly with all of the traditional sides at the table. But if you're feeling like mixing it up, try it with bacon-wrapped green beans.
Thanksgiving Smoked Brisket
Few things say Texas like a big ol Thanksgiving brisket. Seeing it on the table being sliced-up, surrounded by all the traditional holiday sides, always warms my heart. For a break from the norm this year, give this recipe a try.
Ingredients:
1 Full-size Premium Quality, Grass-fed Brisket.
2 cups Kosher salt.
1 cup chili powder.
1 cup garlic powder.
1 cup onion powder.
1 cup coarse ground black pepper.
If you already have a favorite barbeque seasoning, then feel free to use it.
Instructions:
Fire-up the smoker and get it stabilized at 225 degrees. Use a flavorful hardwood like pecan or mesquite.
Remove the brisket and pat it dry with paper towels.
Mix the salt, pepper, chili, garlic, and onion powder. Evenly cover the meat with the spice rub. Get all the sides and nooks and crannies.
Place the brisket in the smoker, fat side up. Leave it there until the internal temperature reaches 160 degrees. This should take 5 to 6 hours.
Once it reaches 160 degrees, remove from the smoker and wrap the brisket in butcher paper. Fold the edges over to fully sealed the package.
Return the brisket to your smoker with the folded edges down and continue smoking at 225 degrees until your brisket's internal temperature reaches 202 degrees at the thickest part.
Rest the beef. Do not skip this step. Seriously. Resting meat after it cooks allows the juices to settle down a little and redistribute through the meat. brisket
When it comes time to slice your beef for Thanksgiving dinner, make sure to cut thin and against the grain. This ensures beautifully tender, melt-in-your-mouth pieces.
Check us out! We offer sustainably raised bulk beef and Premium Quality custom beef boxes. Each one is chock-full of all your favorite cuts. We also have tons of fun Texas Beef Company merchandise. It's time you started eating Better Beef.