December 19, 2020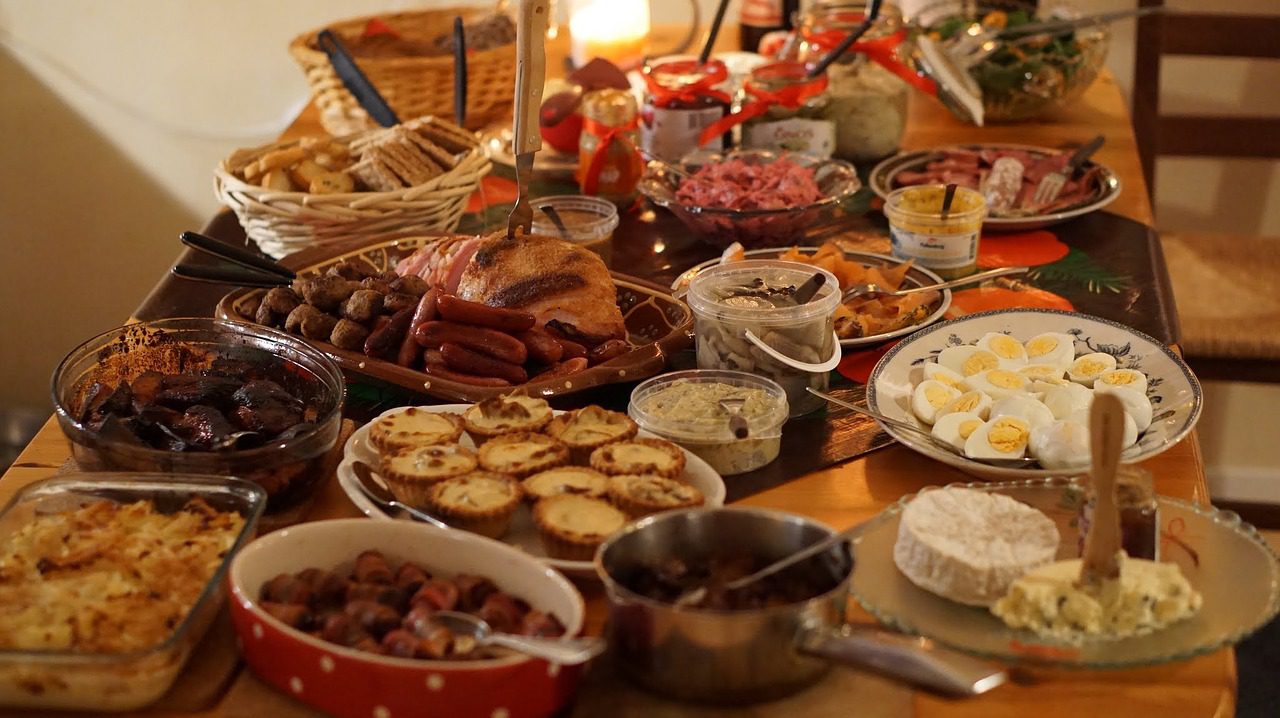 Over the years, I've noticed that when planning Christmas dinner, I've focused more and more on the delicious holiday side dishes than the main course. Not that I'm not in love with our family favorite, roasted tenderloin with pepper crust, it just that there are SO many possibilities: bacon brussels sprouts, maple glazed carrots, garlicky mashed potatoes… should I continue?
Cheddar Truffle Mac and Cheese
This White Cheddar Truffle Mac and Cheese is incredibly creamy. It is also the perfect holiday side dish to complement the intense flavors of roasted beef.
Don't be scared away by the fancy name. This recipe is easy to make. Just throw it all together on the stove with truffle oil, white cheddar & Swiss cheese. Here's what you need:
2 cups whole milk
2 cups macaroni or cavatappi
2 cup shredded sharp white cheddar cheese
1 cup shredded Swiss cheese
4 tablespoons butter
3 Tablespoons flour
truffle oil to taste
Salt and pepper to taste
The mac and cheese comes together quickly because you cook the pasta and make the cheese sauce simultaneously. The whole thing can be ready in about 30-minutes.
First, start cooking the pasta. Boil for 8-9 minutes until al dente.
Second, while you are waiting for the water to boil, melt the butter, then whisk in the flour to make a rue.
Next, add the milk 1 cup at a time. Whisk as you pour to remove lumps. Continue stirring until thickened, bringing the liquid almost to a boil. Be careful not to scorch it.
Lastly, add in the cooked pasta and stir in cheese. Season with salt, pepper, and truffle oil to taste.
Brown Butter and Garlic Green Beans
Every meal needs a vegetable, and these Browned Butter and Garlic Green Beans are a classic pairing for beef. They have a deep, nutty flavor from toasted almonds and browned butter. The lemon juice adds some acid to balance out the buttery sauce.
When it comes to holiday side dishes, these beans are second to none.
1 pound fresh green beans, trimmed
1/2 cup sliced almonds
1/4 cup grated parmesan cheese
4 tablespoons butter
4 cloves garlic, minced
1 lemon juiced, plus its zest
Kosher salt and black pepper, to taste
Once you've gathered all the ingredients, the steps are simple:
First, blanch the green beans in boiling water for 2 – 3 minutes until they are bright green. Drain them and immediately place them in a bowl of ice water to stop the cooking process. Remove after a minute or so.
Second, over medium heat, heat a skillet and toast the almonds in lightly browned and fragrant. Stir occasionally to prevent burning. Set the almonds aside.
Next, in the same pan, melt the butter and add in the garlic. Stirring occasionally, cook until the butter turns light brown and the garlic is toasting.
Then add the beans and lemon juice to the pan and toss until hot and coated in the butter mixture.
Lastly, transfer to a serving plate. Top with lemon zest, parmesan cheese, and toasted almonds.
Jalapeno Cheddar Biscuits
Finally, what would a Texas Christmas dinner be without some fresh-baked bread to sop-up all the beefy juices? Don't be discouraged. Making buttermilk biscuits from scratch might seem over the top, but these are so easy to make.
I promise you won't regret whipping up this holiday side dish. Each bite is loaded with flaky layers of sharp cheddar cheese, crunchy cornmeal, and a touch of heat from the jalapeños.
1 1/3 cups all-purpose flour
2/3 cup cornmeal
2 1/2 teaspoons baking powder
1/4 teaspoon baking soda
1 1/4 teaspoons salt
6 Tablespoons unsalted butter, cubed and chilled
1 1/2 cups grated sharp cheddar cheese
3/4 cup buttermilk, chilled
1 jalapeño, seeded and finely chopped
The steps are easy, and to make them even easier, I always make these as drop-biscuits. That's right, no rolling, no messy counter, just delicious biscuits.
First, preheat your oven to 425 degrees. While this is happening, whisk the flour, cornmeal, baking powder, baking soda, and salt in a large bowl.
Second, transfer the dry-ingredient mixture to a food processor bowl and add in the cubed, chilled butter.
Next, pulse 3 or 4 times until crumbs form. Then pour in the buttermilk and pulse four more times until the dough comes together.
Dump the biscuit dough back into the bowl and fold in the grated cheddar and chopped jalapeños. Do NOT overwork the dough.
Using a spoon or your fingers, place dough balls onto a parchment-lined baking sheet. You can make the biscuits as big or small as you want. Just remember that the smaller they are, the faster they will cook.
Finally, brush the biscuits with some melted butter and bake for 8-15 minutes, or until the tops are crusty and deeply golden. Again, this will depend on the size of your dough balls.
Check us out! We offer grass-fed, grain-finished, sustainably raised bulk beef and Premium Quality custom beef boxes. Each one is chock-full of all your favorite cuts. We also have tons of fun Texas Beef Company merchandise. Show the world that you Eat Better Beef!