December 28, 2020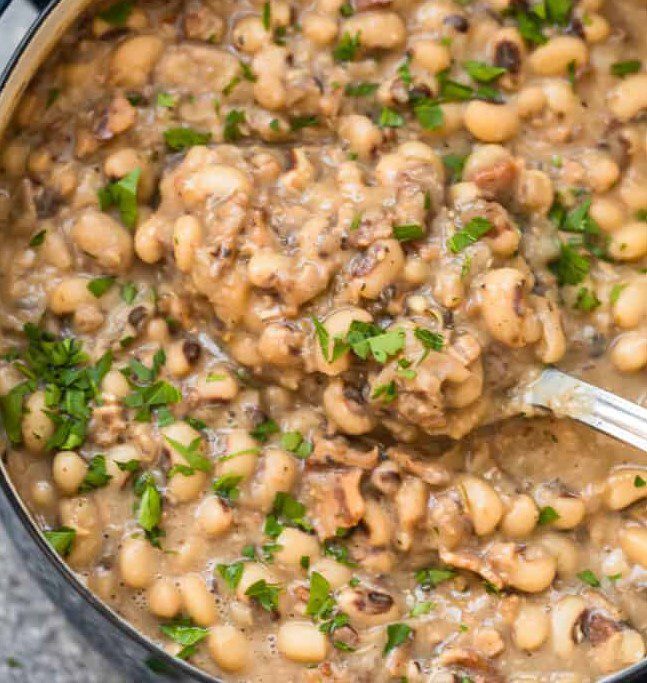 Legend has it that black-eyed peas bring good luck to those who eat them on New Year's Day. And the more of them you eat, the better fortune you will have.
Of course, everyone in Texas has their favorite family recipe, and we respect tradition just as much as the next family. But remember, the good luck isn't restricted to the black-eyed pea soup recipe. You just have to eat as many of the little guys as you can.
This recipe, which is made with Premium Quality ground beef, was sent to us from a family friend. She tells us that she learned it from her great grandmother and later adjusted it to use a crock-pot.
Ingredients for Crock Pot Black-Eyed Peas
Before we go any further, let's clear something up. There's some debate surrounding whether or not to soak black-eyed peas before cooking. Tradition holds that legumes need to sit in cold water for at least overnight. But if you're in a hurry, I've found that simmering legumes in twice as much water as a recipe calls for gives identical results.
Ok, here's what you'll need.
3 tablespoons olive oil
1 1/2 cups chopped onions
1 pound Premium Quality Texas Ground Beef
2 cloves garlic
1 chopped jalapeno (if you like things spicy)
1 (14.5-ounce) can of diced tomatoes
1 quart beef stock
1 pound dried black-eyed peas
2 cups cold water, plus more as needed
1 teaspoon chili powder
1 teaspoon salt
1 teaspoon freshly ground pepper
Easy Steps for Crock Pot Black-Eyed Peas
Setting this recipe up is a snap. You just need to brown the beef and then add everything into the pot. Don't forget to soak the black-eyed peas in water overnight.
In a skillet, warm the oil. Add the onions and cook, occasionally stirring, until they're starting to brown.
Add the ground beef and garlic. Brown the meat and then turn off the heat.
Drain off the excess fat.
Next, put the browned onions, garlic, and beef into the crock-pot.
Toss in the tomatoes, the jalapeno, the soaked black-eyed peas, the stock, the water, and the salt and spices.
Stir it all up and set the pot to low.
Cook for 6 – 8 hours or until the peas are tender and the stew has thickened.
Black-Eyed Peas for Luck
Slow-cooker meals are just so easy. When the cooking is done, just switch the pot to warm. Maybe bake up some cornbread, and scoop out generous helpings of delicious black-eyed peas for your family and friends. Happy New Year!
Check us out! We offer sustainably raised bulk beef and Premium Quality custom beef boxes.  Each one is chock-full of all your favorite cuts. We also have tons of fun Texas Beef Company merchandise. It's time you started eating Better Beef.