January 18, 2021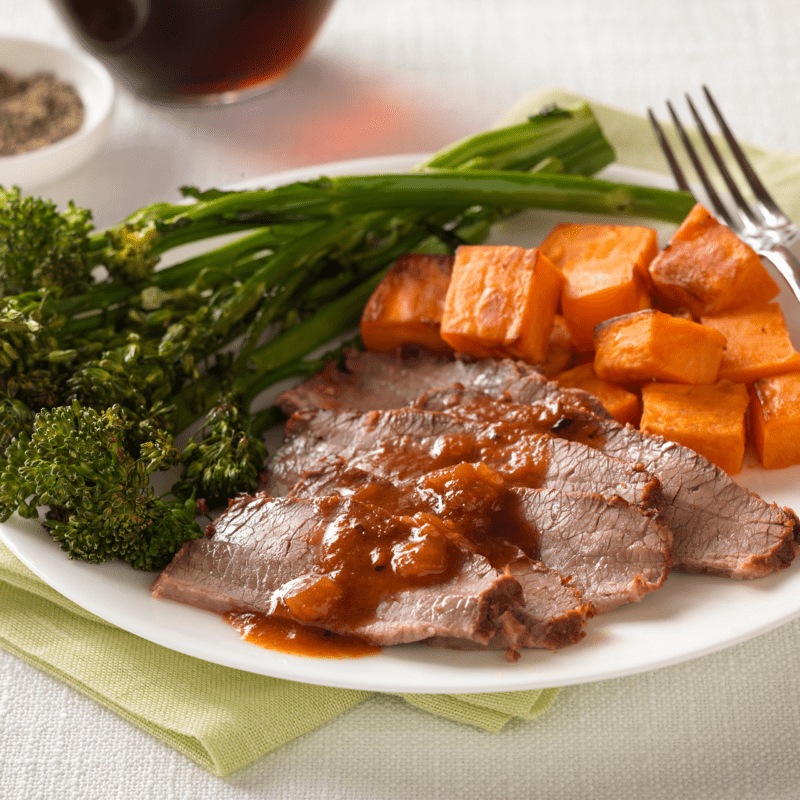 Over the last few years, tri-tip steak has gained popularity here in Texas. This is because of its extraordinary flavor, marbling, and price point. There is just so much to love about this versatile cut of steak.
Tri-Tip Steak
Tri-tip is a budget-friendly cut of steak that doesn't skimp on flavor. And when it's from grass-fed grain-finished Premium Quality Texas beef, tri-tip could quickly become your new go-to cut.
If you've never had tri-tip, what are you waiting for? The flavor is out of this world. There are two reasons why.
Although it is a very lean cut of meat, it does have a good amount of marbling. This gives it a nice smooth texture.
The lower fat content helps it absorb any flavors you add to it. This means that tri-tip marinades and tri-tip rubs can really open up a universe of exciting flavor options.
But the best part, tri-tip is a part of the bottom sirloin, so it's not as pricy as a New York strip or ribeye. But don't let that fool you. It can still be found on the menus of some of the nicest restaurants in the country. 
How to Cook Tri-Tip Steak
Cooking this tasty steak is easy. Tri-tip does best when you use quick cooking methods such as grilling, broiling, and pan-searing. As mentioned above, this is a lean cut, so if you're planning to cook it beyond medium, then you should consider using a marinade to help keep the meat tender.
Here are some tips for the three best ways to cook a tri-tip steak. Remember, the steak's thickness, temperature, and the amount of time it was marinaded will affect your cooking times. It's best to let the meat warm up a bit before cooking, and don't forget to rest it for a few minutes before slicing.
Grilling – this method works with both marinades and rubs. Just get your grill as hot as possible and cook the meat for four minutes on each side for medium-rare.
Broiling – in the winter, not only can your oven cook your dinner, but it can warm the house up too. You'll want to turn your oven on high for this and raise the rack to the high position. Broiling works best for marinades, and the rubs can sometimes dry out and burn. Place the tri-tip on a roasting rack and cook for eight minutes on each side for medium-rare.
Pan-Searing – if you're looking for a nice even crust on your steak, then this is the technique for you. Add some oil, and then carefully place the steak in the pan. Rotate the tri-tip a couple of times to ensure an even sear. Cook for four minutes on each side for medium-rare.
We prefer to use a rub when pan-searing, but marinades will work too. Just make sure to pat the meat dry before adding it to the pan. This will help to reduce the splattering of the liquids and the oil. 
Tri-Tip Rub
If you don't have time to marinate your tri-tip, use a spice rub instead. Like the marinades, pretty much any seasoning blend will work with this cut, but we have developed our favorites here on the ranch over the years.
3 tablespoons salt
3 tablespoons smoked paprika
2 tablespoons red pepper flakes
2 tablespoons onion powder
2 tablespoons garlic powder
2 tablespoons oregano
2 tablespoons coarse ground black pepper
1 tablespoon ground cumin
Combine all ingredients in a bowl and mix to incorporate. This rub can be stored in a resealable bag in the freezer for up to a year, but we think you'll use it up before then!
Check us out! We offer grass-fed, grain-finished, sustainably raised bulk beef and Premium Quality custom beef boxes. Each one is chock-full of all your favorite cuts. We also have tons of Texas Beef Company merchandise. Show the world that you Eat Better Beef!