February 21, 2021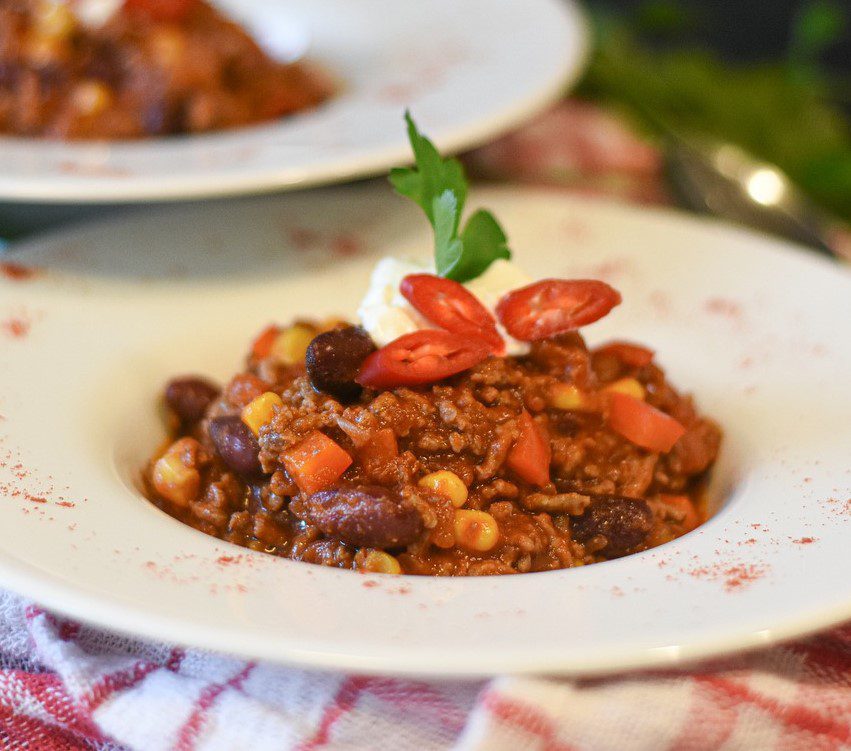 Life is hectic. Making chili shouldn't be. This quick and easy Texas chili recipe can be thrown together any night of the week. And the best part, it's ready to serve in under an hour.
Other recipes take a long time to prepare. But in real life, juggling all your responsibilities and making a complicated dinner just doesn't work. So we've perfected this quick, easy Texas-style chili. And the best part, it's ready to eat in only 40 minutes. 
Texas Chili Ingredients
As with most comfort foods, every family has their personal touches they like to include. So we've broken down the ingredient list into three parts: essentials, spices, and optional additions. Feel free to substitute whatever you want wherever you want.
The list of main ingredients is short and sweet. Obviously, the most important thing to remember is that the beef makes the chili. Here on the ranch, we use Premium Quality Texas ground beef. It's grass-fed, grain-finished, and always hormone and steroid-free.
2 lb. Premium Quality ground beef
3 cloves garlic, chopped
1/2 large white onion, sliced thin
1 (28-oz) can crushed tomatoes
2 tbsp. tomato paste
Next, let's take a look at the spices. Chefs swear by all sorts of things in their chili. There's everything from A-1 sauce to mustard to chocolate, but stick with these basics when you're in a hurry.
2 tbsp. chili powder
1 tsp. ground cumin
1 tsp. dried oregano
1/2 tsp. cayenne pepper
Kosher salt and ground black pepper to taste
Lastly, and optional, beans. Texas chili is traditionally beanless, but many people love to add beans into the mix. If this is you, feel free to go wild. Kidney, black, pinto, even white, or cranberry beans work.
1 (15-oz) can of beans, drained — dealer's choice.
Steps to Make Quick Easy Texas Chili
As promised, putting this chili together is a snap. Once you've gathered all the ingredients, there are just a few easy steps:
In a large pot over medium heat, add your Premium Quality Texas ground beef and cook until no longer pink, about four minutes. Drain fat and return to heat.
Add the onion and garlic to the pot with the meat and sautee until soft, about 3 minutes. 
Add the chili powder, cumin, oregano, cayenne, and season generously with salt and pepper. Stir the mixture on the heat for 30 seconds to toast the spices.
Pour in the drained beans (if using), tomato paste, and crushed tomatoes. Bring the pot to a boil. 
Reduce heat and simmer for 20 minutes. 
Texas Chili Garnishes
While the chili is cooking, start setting the table because dinner will be ready before you know it!. And if you're feeling adventurous, put together a spread of toppings that your family can add to their bowls. Here are some of our favorites:
Shredded cheddar
Crumbled queso fresco
Sour cream
Thinly sliced green onions
Diced tomatoes
Chopped avocado
Diced red onion
Sliced jalapeños
Chopped fresh cilantro
Hot sauce
Lime wedges
Check us out! We offer grass-fed, grain-finished, sustainably raised bulk beef and Premium Quality custom beef boxes. Each one is chock-full of all your favorite cuts. We also have tons of Texas Beef Company merchandise. Show the world that you Eat Better Beef!