April 24, 2021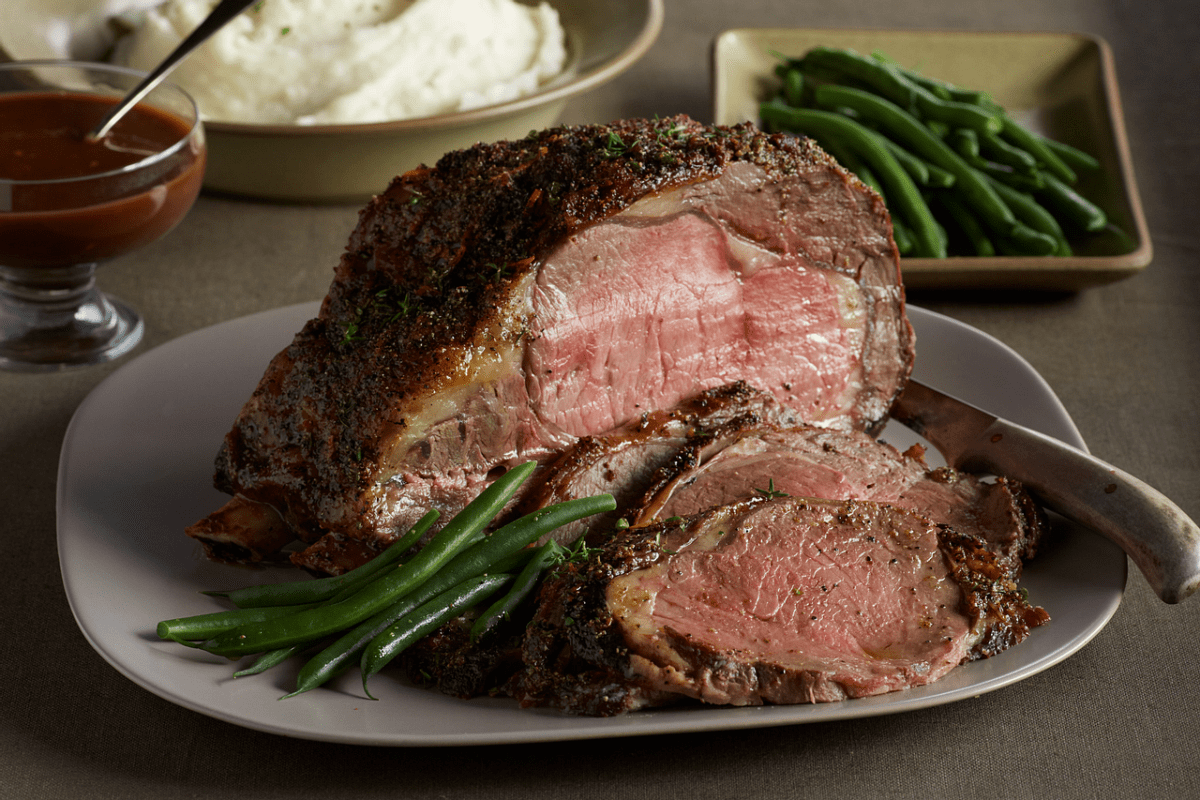 Never underestimate the power of a delicious hunk of Premium Quality Texas Beef. This Smoked Prime Rib Roast is a beautiful sight to behold and will feed your entire family and provide plenty of leftovers.
Here on the ranch, we infuse this hearty cut with hours of pecan smoke and finish it off on the grill with a good sear. This gives the meat a beautiful spicy crust that people just can't get enough of.
So fire up the smoker and get ready for a feast. Today we're sharing our recipe for one of the most delicious pieces of meat you will ever sink your teeth into.
What is a Prime Rib Roast
A prime rib roast is a classic cut that is part of the primal rib. It can weigh up to 30 pounds, has seven bones, and results in delicious marbled steaks. If you're a fan of ribeyes, then you'll absolutely love smoked prime rib roast.
When you decide to make this recipe, remember that the meat you choose is essential. Don't waste your time and money on the ordinary. We always recommend using Premium Quality Texas Beef. It's grass-fed, grain-finished, and always hormone and steroid-free. If you haven't tried it yet, then it's time for you to Eat Better Beef!
Ingredients for Smoked Prime Rib Roast
When you're planning your meal, figure on one pound of smoked prime rib roast per person. This may sound like a lot, but once the meat is trimmed and cooked and the bones are removed, it will be about right. If you're feeding children, they'll eat approximately half this amount. Here's everything you need:
1 eight-pound Premium Quality Prime Rib Roast
1/2 cup yellow mustard
4 cloves garlic (finely chopped)
2 tablespoons Worcestershire sauce
2 tablespoons chili powder
2 tablespoons salt
2 tablespoons coarse ground black pepper
Smoking a Prime Rib Roast
Once you've gathered all the ingredients, take the roast out of the fridge. Try to remove it a couple of hours before you intend to start cooking. This allows the meat to come up to room temperature, so it cooks more evenly.
If you have a smoker, use it. If you don't, then a regular grill will work fine. Just make sure you're using indirect heat.
For the smoke, we always use pecan wood for this recipe, but mesquite or hickory will taste just fine too.
Preheat your smoker or grill to 225F.
While it's warming up, prepare your roast by trimming any excess fat from it.
In a small bowl, combine the mustard, Worcestershire sauce, garlic, and spices.
Generously cover the entire roast with the mixture. Make sure to get all the sides.
Place the roast on the smoker or grill and smoke until the roast's internal temperature reaches 120F. Plan on about 35 minutes per pound of prime rib for it to reach this temperature.
Remove the roast to a cutting board and increase the temperature of your grill to its highest setting. If you're using a smoker, then fire up your grill!
Once the grill is super hot, place the roast to the grill, bone side up. Using direct heat, sear all sides of the beef until it reaches the desired internal temperature. It will cook quickly, so keep an eye on your thermometer. Remember, that's 125F for rare, 135F for medium-rare, and 145F for medium.
When your desired temperature is reached, rest the meat for at least 15 minutes before slicing and serving.
All that's left to do now is enjoy! The best part about smoked prime rib roast is that it can be served with just about anything. Here are some of our family's favorite sides.
Check us out! We offer grass-fed, grain-finished, sustainably raised bulk beef and Premium Quality custom beef boxes. Each one is chock-full of all your favorite cuts. We also have tons of Texas Beef Company merchandise. Show the world that you Eat Better Beef!