March 14, 2021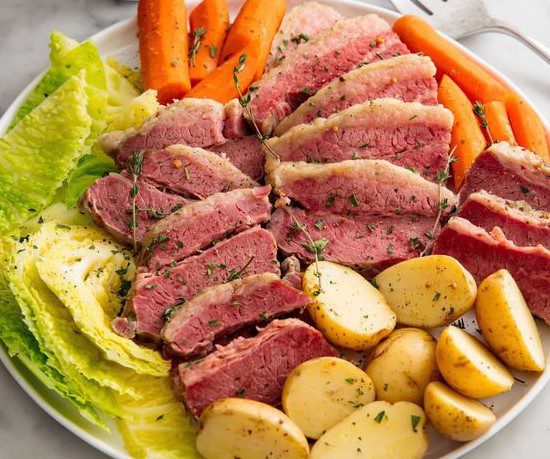 On St. Patrick's Day, everyone becomes a little more Irish. And here on the ranch, that means cooking and eating plenty of Texas-style corned beef. There are sandwiches piled high with meat and plates heaped with braised cabbage and potatoes.
If you've never tried brining your own brisket for corned beef, then this is your year. We've got you covered from start to finish with our favorite Texas-style corned beef recipe.
Corning Your Own Texas Beef Brisket
Corning beef is easier than you might think! All you need is a little bit of time because the brisket should be brined for at least five days. It pays to plan ahead for this one.
The second key to success with this recipe is using Premium Quality Texas Beef. It's grass-fed, grain-finished, and always hormone and steroid-free.
For 6 lbs of Premium Quality Texas brisket, you'll need:
3 quarts water
6 whole cloves
4 garlic cloves minced
2 bay leaves, crumbled
2 cinnamon sticks, broken in half
1 jalapeno chopped
1 dried chipotle flaked
1 cup kosher salt
1/2 cup sugar
2 tsp whole mustard seeds
2 tsp whole coriander seeds
1 tsp whole allspice berries
1 tsp cumin seed
1 tsp ground ginger
Add all of the ingredients to a large stockpot.
Bring to a boil, then lower to simmer and cook until salt and sugar have dissolved.
Turn off heat and cool.
Once the brine is cooled, place the 6 lbs brisket into a large container or sealable plastic bag.
Pour in the cooled liquid to cover the meat entirely.
Store in a refrigerator for five days, turning on day three.
On the fifth day, remove from the brining liquid (discard liquid) and follow the directions below to cook the Texas Style Corned Beef.
Cooking Your Corned Beef
To cook your Texas-style corned beef, you'll need:
6 lbs brined brisket, rinsed well and patted dry with paper towels
2 bottles of your favorite stout beer
1 cup beef broth
1 small white onion chopped
1 stalk celery chopped
1 carrot chopped
¼ cup dark brown sugar
Next, you'll need to:
Add all of the ingredients to a large stockpot and bring to a boil.
Stir to dissolve the brown sugar
Reduce heat and simmer covered for 4 hours
Remove lid and add:
1 small head of white cabbage cored and roughly chopped
5 carrots, peeled, cut into bite-sized pieces
2 pound of russet potatoes cut into bite-sized pieces
Replace the lid and continue simmering until the beef is fork-tender (about 5 hours)
Once the Texas-style corned beef is finished, remove it from the braising liquid and slice it into thin strips. Serve with the veggies and a generous helping of green beer. Sláinte!
Check us out! We offer grass-fed, grain-finished, sustainably raised bulk beef and Premium Quality custom beef boxes. Each one is chock-full of all your favorite cuts. We also have tons of Texas Beef Company merchandise. Show the world that you Eat Better Beef!