March 13, 2021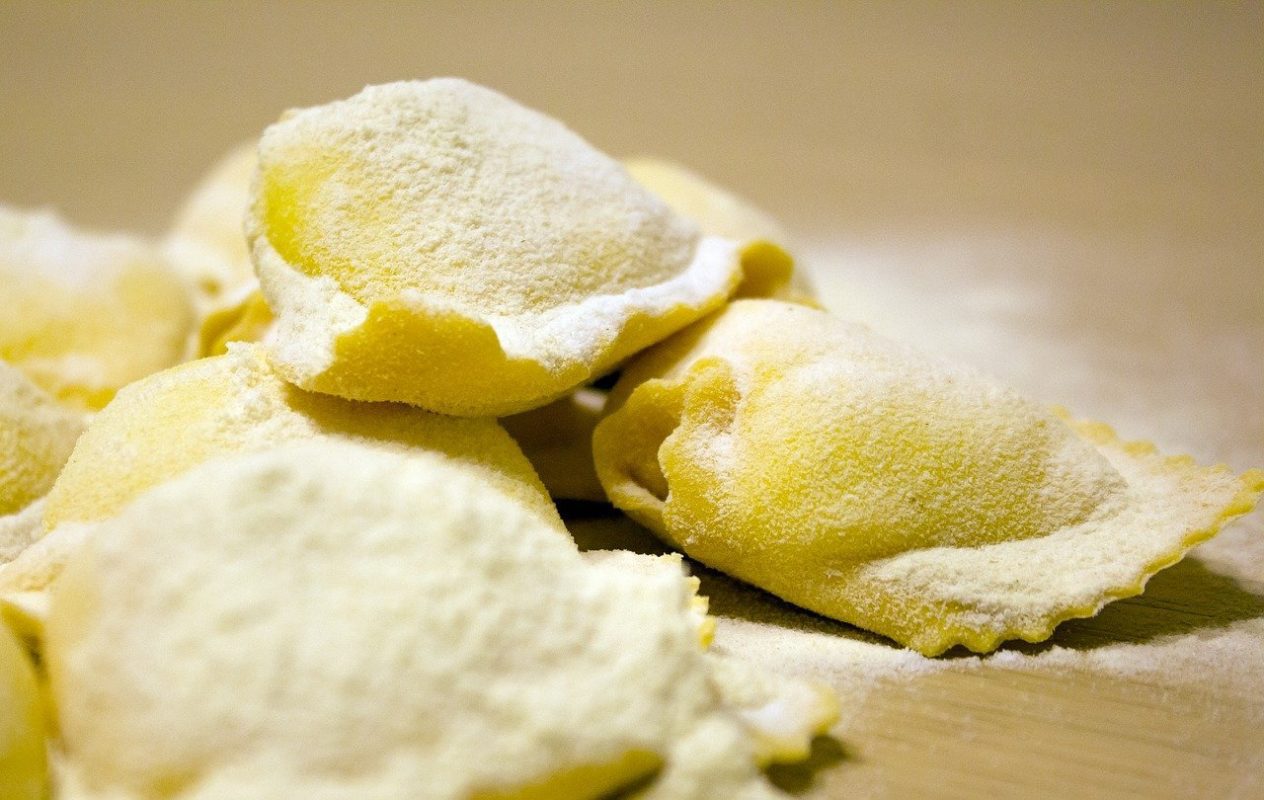 Here on the ranch, we fire up the smoker almost every weekend. So we're constantly figuring out new ways to utilize the leftovers — one of our family's favorites, these tangy Texas barbeque ravioli.
Don't stop reading yet! Of course, we know that making fresh pasta dough is a real pain. But here's a great trick to make this dish a snap: use wonton wrappers instead of dough.
Wonton wrappers are available in the refrigerated section of most major grocery stores. They're sold in round or square varieties and either shape will work. Using the wrappers and utilizing leftovers, these delicious Texas barbeque ravioli are easy enough to throw together on a weeknight. 
Make the Filling
With just three simple ingredients, you can quickly put these Texas barbeque ravioli together.
When it comes to the meat, we recommend using our Premium Quality Texas Beef. It's grass-fed, grain-finished, and perfect for the smoker. Any cut will work as long as it's packed with smokey, barbeque flavor. Just make sure that you break the meat down into tiny pieces before you start. The filling will need:
2 cups finely chopped, leftover barbeque (brisket works great)
1/3 cup finely grated sharp cheddar cheese
1 tablespoon barbecue sauce (use your favorite)
Evenly mix these ingredients in a large bowl and set aside.
Boil the Ravioli
To start, bring a pot of water to a boil, lightly dust a sheet pan with cornmeal or flour, and grab the kids to help. They'll love filling and sealing their own ravioli.
You'll need:
Package of wonton wrappers
The filling you just made
1 cup of water
Place a small scoop of filling into the center of each wrapper.
Brush the edges with water (you can use your finger for this)
Lay a second wrapper on top of each ravioli. Press the edges down, pushing out as much air as possible from around the filling and sealing the ravioli.
Once you have a good seal, place the ravioli on the sheet pan and set them aside.
Get Saucy
These Texas barbeque ravioli already have such a complex flavor with the smokey beef and the sharp cheddar that they pair best with a simple sauce.
An easy-to-make brown butter fits the bill perfectly. You'll need:
8 tablespoons unsalted butter
1 clove garlic, crushed and chopped
1/4 cup coarsely chopped fresh parsley leaves
1 teaspoon fresh lemon juice
Salt and pepper to taste
Melt the butter in a medium saucepan set over low-medium heat.
When the butter is completely melted, add the chopped garlic.
Stir for about a minute. Adjust the heat to make sure the garlic doesn't burn.
Carefully add the chopped parsley to the garlic butter and continue stirring and cooking the mixture for 1 to 2 additional minutes.
When the butter has turned very light brown and has a nutty aroma, turn down the heat to very low and add the lemon juice and season with salt and pepper to taste.
Cook and Serve
As soon as the sauce is done, start dropping the ravioli into the boiling pot of water. They will only take a few minutes to cook.
When they float to the surface, remove them from the water using a slotted spoon and plate them up.
Drizzle as much of the sauce as you want over the pasta and serve with a garden salad or your favorite vegetable. ENJOY!
Check us out! We offer grass-fed, grain-finished, sustainably raised bulk beef and Premium Quality custom beef boxes. Each one is chock-full of all your favorite cuts. We also have tons of Texas Beef Company merchandise. Show the world that you Eat Better Beef!